watch this video to understand how perfect risk reward can help you create good profit…
The risk/reward ratio is often used as a measure when trading individual stocks. The optimal risk/reward ratio differs widely among various trading strategies. Some trial-and-error methods are usually required to determine which ratio is best for a given trading strategy, and many investors have a pre-specified risk/reward ratio for their investments.
On trade entry the risk/reward ratio measures a trades potential for loss versus the magnitude of possible profits. In backtesting the average of all the losses in a system compared to all the average gains gives you the system's risk/reward ratio based on historical price action.
Looking at your stop loss versus your profit target for any trade can tell you whether the risk is worth taking the trade. Most trades are only worth taking if you have at least a 1:2 or 1:3 risk to reward ratio based on your plans to manage the trade after entry.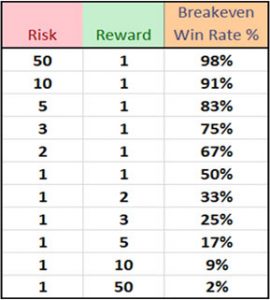 RISK REWARD APPLIED PRACTICALLY
HOW TO RECOVER $10000 USD LOSS IN GOLD XAUUSD, LIVE TRADE ANALYSIS